Utility Shelters - Gatineau
The XR810 is so practical!
The XR810 is your solution if you're short on space in your garage or shed. It's a shelter that allows you to protect your lawnmower, snowmobile, or ATV. It could also be used to shield your firewood for campfires or heating!
The XR810 helps you maximize your outdoor storage space, whenever and wherever you need it. It's very convenient and easy to assemble.
You can use it year-round based on your needs or during specific seasons like winter or summer.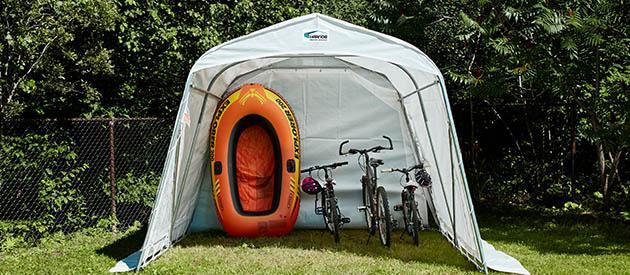 XR810 Specifications
Width
8 feet 6 feet
Length
10 feet
Clearance Height
6 feet 10 inches
Overall Height
7 feet 7 inches
Arch Spacing
5 feet
Steel Type
Alu-zinc (Galvalume) Round Shape
Canvas Type
Welded Woven Polyethylene Canvas, UV Stabilized 6 Ounces
Color
Light-Opaque or Green ( with 2 Doors)
The VESTIBULE, a significant addition!
The VESTIBULE is highly appreciated by our customers. It helps reduce the cold and wind that enter your home every time someone comes in.
Additionally, thanks to the VESTIBULE shelter, you won't need to shovel in front of your door as much.
The VESTIBULE is equipped with 2 transparent vinyl windows, providing better visibility from the outside.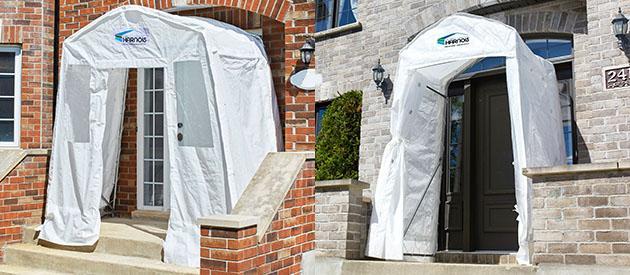 VESTIBULE® Soecifications
Width
51″ or 92″
Lenght
41″ or 48″
Clearance Height
N/A
Overall Height
96″
Arch Spacing
N/A
Steel Type
Alu-zinc (Galvalume) Round Shape (1 1/4″, 18 Ga)
Canvas Type
Woven Polyethylene Canvas, UV Stabilized 7.0 Ounces
Color
Light-Opaque with 2 Windows 1 included Door Can Be Tailored on One of the 3 sides
Even more storage space!
This storage shelter provides you with extra storage space. Depending on your needs, it will protect your tools, shovels, lawnmower, or snow blower. It'll be your ally in keeping what you want safe from rain or snow.
It's easy to install and relocate according to your needs and the time of year.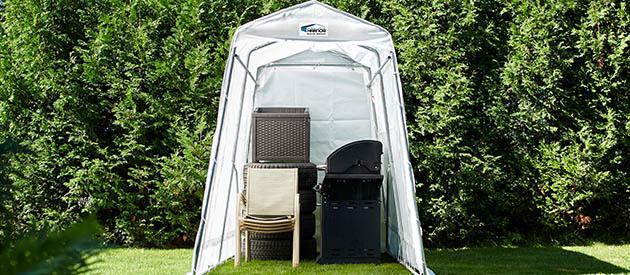 Storage® Specifications
Width
5 feet
Lenght
8 feet and 12 feet
Clearance Height
6 feet 6 inches
Overall Height
7 feet 8 inches
Arch Spacing
4 feet
Steel Type
Alu-zinc (Galvalume) Round Shape (1 1/4″, 18 Ga)
Canvas Type
Woven Polyethylene Canvas, UV Stabilized 7.0 Ounces
Color
Light-Opaque (With 2 Doors)