Double shelters - Gatineau
The XR18 or XR20 is the most requested double shelter.
This double shelter can have a width of 18' or 20' and a length of 20' or 25' according to your needs. It's a great alternative to the expensive construction of a double garage.
The XR double shelter is the most cost-effective solution for protecting your cars during winter. This solution allows you to enjoy your property when spring comes around.
Manufactured in Quebec, using high-quality Alu-Zinc (Galvalume) steel, the XR18-20 is covered with a 7.0 oz canvas, which is more durable than standard shelter canvases, and is hot-welded for perfect waterproofing.
The shelters are available in a light-opaque color and have sufficient interior clearance to accommodate SUVs or minivans.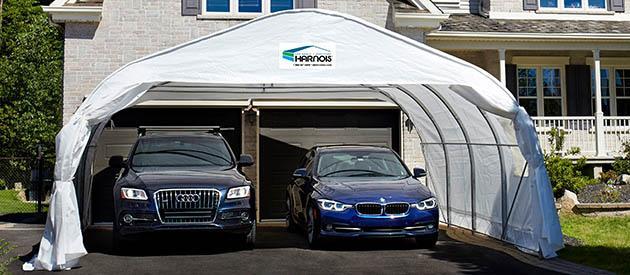 XR18-XR20® Specifications
Width
18′ and 20′
Length
20′ and 25′
Clearance Height
8′
Overall Height
XR 18 : 10 feet 3 inches
XR 20 : 10 feet 8 inches
Arch Spacing
5 feet
Steel Type
alu-zinc (galvalume) Oval Shape (2 3/4″ x 1 5/8″, 16 Ga)
Canvas Type
Welded Woven Polyethylene Canvas, UV Stabilized 7.0 Ounces
Color
Light-Opaque with 2 Windows
Winter with confidence, the TA-R protects your vehicles !
The TA-R can have a width of 16', 18', or 20'. It's very spacious and offers room for 2 vehicles.
This shelter is manufactured in Quebec, using Alu-Zinc (Galvalume) steel, ensuring strength and quality suited for our winters.
The TA-R is covered with a standard 7.0 oz canvas, sewn and UV stabilized. It has two doors and two vinyl windows (on the clear canvas only). Other custom canvas options are available.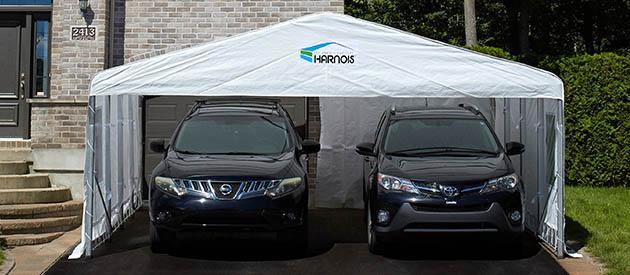 TA-R® Specifications
Width
16′, 18′ et 20′ (Standard)
12′ à 25′ on demand
Lenght
12′ to 40′
Clearance Height
6 feet 6 inches, 7 feet 6 inches (Standard)
Up to 14 feet on demand
Overall Height
TA-R 16 : 8 feet 11 inches
TA-R 18 : 9 feet 5 inches
TA-R 20 : 9 feet 7 inches
Arch Spacing
4 feet
Steel Type
Alu-zinc (Galvalume) Oval Shape (2 3/4″ x 1 5/8″, 16 Ga)
Canvas Type
Woven Polyethylene Canvas, UV Stabilized 7.0 Ounces
Color
Light-Opaque with 2 Windows