Industrial shelters - Gatineau
The INDUSTRIAL shelter: a custom shelter!
The dimensions of the INDUSTRIAL shelter depend on the needs of businesses. Manufactured from North American Alu-Zinc (Galvalume) steel and covered with a UV-resistant gray canvas, the INDUSTRIAL shelter is often used as a warehouse.
Depending on requirements, this shelter can protect a work area or be used as additional storage space. It's designed to maximize usable space and facilitate movement around and inside the shelter.
This shelter can be as wide as 30', with its length and height determined by the customer's needs.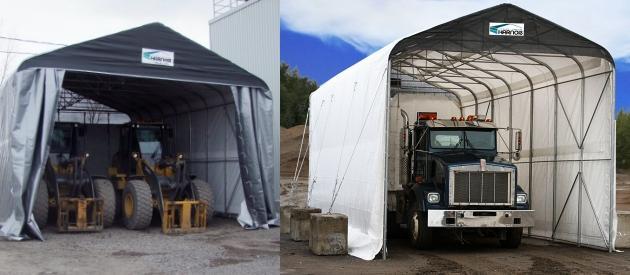 Spécifications de l'industriel
Width
12′ to 30′
Length
Upon Request
Clearance Height
Upon Request
Overall Height
Upon Request
Arch Spacing
4 feet ou 5 feet (According to Dimension)
Steel Type
North American Alu-Zinc (galvalume) (2 3/4″ x 1 5/8″, 14 Ga)
Canvas Type

Extra UV Stabilized Canvas (2 Times Superior) Against UV, Commercial Quality, 12 Ounces

Color
7.31 Ounces: White, Green, or Taupe
12Ounces: White, Green, or Gray
Window(s) Available Upon Request Only